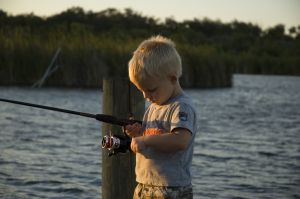 Kids love to try new things. They are blessed with the same adventurous spirit that adults have. After a long, cold winter, your children seem to be tired of the indoors but you are not sure what you can do with them that they have not yet tried. Boating and fishing are a great way to spend time with your children. There are several things you can do, as you embark on your fishing journey that will allow you to make the most of your time together.
Fishing is the perfect opportunity for you to instill a sense of responsibility and accomplishment in your kids by allowing them to help you with grown-up jobs. Depending on how old they are, you may assign them certain small things such as ensuring that everyone has a personal floatation device or letting them coil a line. You can also keep them busy by showing them the basics of fishing. But there are enough details involved in the sport of fishing, thus you will need to take your kids on multiple trips before they can become fluent in the language of the angler.
Exciting water activities such as snorkeling, tubing or looking for wildlife can keep your children busy whilst you are fishing. You can also use this time as an opportunity to teach your kids new things about the environment. Aside from that, you may also teach them new skills on boating and fishing. Try to incorporate these teachings into fun yet intriguing activities.
You can start with a game that teaches nautical terminology. Focus on words like port, starboard, or bow and build upon this knowledge. After learning these terms, teach your children how to safely drive a fishing boat or cast a fishing line. Always be observant. Boating and fishing, when combined, allows for an enormous amount of learning. It will benefit your children in many ways by discovering new things that will help them become better fishers and boatmen.
Participating in an activity that is thousands of years old will teach your children a tradition which they will eventually pass on to their own kids. This includes the responsibility of helping adults accomplish a task. Likewise, children will have unlimited fun as they experience new settings, new climates, and new wildlife. Most importantly, boating and fishing with your children will give you an opportunity to spend quality time with them which is worth more than all the fun they had and the lessons they learned.