Sometimes cleaning a refrigerator can be more appealing to us than putting up with stress at work. If this is how you feel, then it is time for you to save your sanity and your heart, as well!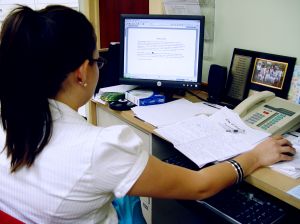 Recent studies show that the working men and women today are caving in to job stress and that most of them face up to 40% higher risk of surgery for blocked arteries and heart attacks. So what do you think is the best thing you could do to save yourself from this? Here are some strategies you may use to reduce stress on the job.
- Don't grumble. Calm down and get moving. The best way to deal with stress is to get active. You can do push-ups against your office wall or walk around the hallways. This will help relieve tension and condition your heart.
- Take time for tea. Black tea has polyphenols which may reduce stress hormones in your body and help your body shed tension faster.
- Add color. Study shows that muted colors made people duller. It's time you take charge of your space by putting some splashes of color to your posters, photos, flowers, and even the throw rug. This will greatly improve your mood and your productivity.
- Laugh. Don't take any work home. Instead, watch a funny movie with your family once a week. Share jokes at dinner or simply laugh it up. Your family will surely draw closer and you'll feel your tension fade away.
- Treat yourself well. For example, after a really bad week recently, I treated myself to a 'Spa Day' at Pace Health Club & Spa, not only did it relax me and take my mind off the stresses of the day, but I cam out feeling like a new person - no bad thing in my case, as the 'old person' was getting a bit frayed round the edges.