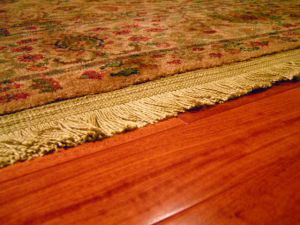 If you wish to add character or just want to hide the stains on your existing floor, a rug will be a good answer. A rug can highlight certain furniture, put accent to the decorations of your room, or may simply be used for practical purposes. However, choosing the right rug is such a problem. No worries though because I'm going to share with you today some tips that could help you make the right decision. Here it is.
1. Consider how you want the room to feel when choosing the size of the rug you want. A rug which hugs the wall of a bedroom can give a warmer, snugger feel whilst a big rug in a big room could give a more formal feel.
2. Choose the shape of your rug. Free-form rugs add excitement to a room that may feel too stuffy while round and circular rugs can soften the angles of conventional rooms. You may also have the shape of the rug copy the shape of the piece of furniture placed on top of it. It could be a large rectangular rug under a dining room table or a round rug under a round coffee table.
3. Choose the color of the rug you want. Color is extremely powerful and could invoke various moods. Darker rugs give rooms a cozier feel while bold colored rugs give rooms a more playful feel. You could also choose the color of your rug for practical reasons. If you want a room to look larger, choose lighter tones and you may choose darker tones for rooms getting more foot traffic. Not everything in the room needs to match, so try to get a color that blends with the paint color, flooring, furniture and other accessories inside the room.
4. Consider the pattern you want for your rug. Patterns give visual interest to a room by adding perception and depth. It is also more forgiving to heavy foot traffic since a rug that has more pattern usually has lower maintenance.
5. Choose the kind of weave your rug should have. Consider how much use it will be getting and where the rug will be placed in your room when deciding on the kind of weave you want your rug to have as it sets the personality of a room. Do you like one that is hard or easy to clean? Do you prefer one that is durable or are you going to use it for luxury purposes only?
Well, choosing a rug can completely change the look of any kind of room. There are many kinds of rug available at the rug retailer. Just keep in mind that you need to do a little planning and remember to have fun with it!